NEW MATERIALS AVAILABLE
New Books (slide show) (Updated: July 31, 2020)

New Movies (slide show) (Updated: August 04, 2020)

IMPORTANT UPDATE - 7/1/20
Library Re-opening!
The Carroll County District Library will re-open to the public on July 6th! The library experience will be a little different than normal due to the Covid-19 virus.
Visitors will be required to wear a mask for the protection of the staff and fellow patrons. Anyone not able to wear a mask can continue to receive curbside delivery.
At this time, we are requesting that anyone under 16 be accompanied by an adult.
Library hours at the main library will be Monday – Friday 9:00 – 7:00, a limit of 10 patrons in the building is set. Malvern Branch hours will be 10:00 – 4:00 Monday – Friday, with a limit of 5 patrons at a time. The Bookmobile is running their summer schedule, with a limit of one person/family at a time on the bookmobile.
We encourage patrons to call in any requests for materials that can be checked out and ready for pick up.
Each morning from 9:00 – 10:00 (at the main library) is designated for our at-risk population, and from 10:00 – 11:00 each morning at the Malvern Branch.
Computers will be available for use by the public on a limited basis. Computer appointments may be made for anyone needing longer than 30 minutes.
Currently there are no meetings or programming.
All summer reading programming is being done on our Facebook page. ("Like" us on Facebook at Carroll County District Library!)
As safety is a huge concern, all returned materials will be placed in bins and quarantined for 72 hours. After the quarantine, the materials are checked in and cleaned. Materials stay on patron cards during the quarantine period. No fines are being charged during this time. A recent study by Battelle Research showed that the virus that caused Covid-19 is not detectable on five common library materials after three days. Materials tested included the cover of hardcover books (buckram cloth), the cover of softback books, plain paper pages inside a closed book, mylar protective book cover jackets, and plastic DVD cases. Battelle tests found the virus undetectable after one day on the covers of hardback and softback books as well as the DVD case. The virus was undetectable on the paper inside of a book and mylar book jackets after three days.

Imagination Library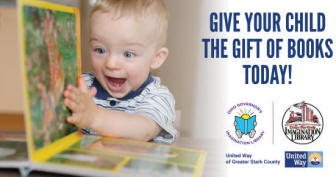 The Ohio Governor's Imagination Library is now available in Carroll County!

Any child, from birth to five years old, is eligible. In as little as five minutes, you can give your child a gift that lasts a lifetime!
Visit https://ohioimaginationlibrary.org today to register your child for Ohio Governor's Imagination Library, and your child will begin receiving a new book in the mailbox each month, at no cost to you. Sign up today!

Library Makerspace

A place where you can Design, Preserve & Create!
VHS to DVD Converter
Record/Cassette to CD Converter
Button Maker
Cricut (crafting/cutting machine)
Ellison Die Cutting Machine
3D Printer

Lynda.com

Free for Library cardholders!
Lynda.com has more than 6,600 courses, ranging from computer programming to project management!
The courses include instruction on various types of computer software, programming languages, and business topics. Learning paths are step-by-step structured courses, supported with quizzes, practice, and learning reminders to encourage you and support you as you make progress towards your goal.
Examples of learning paths include: how to become a web developer, manager, bookkeeper, project manager, small business owner, digital marketer, or digital illustrator.

Library Databases
New databases include: Chilton Library (Auto Repair), Fold3 (US military records), Hobbies & Crafts Reference Center, Home Improvement Reference Center & much more!


Digital Catalog
Through our Digital Catalog, the library offers access to thousands of eBooks. The eBooks are compatible with many popular devices, such as the Amazon Kindle and the Apple iPad, iPhone, & iPod Touch. You may check out up to 10 titles at once and eBooks never accrue fines!

Support Your Library

Buy a Brick Program

Gift Tributes [Printable]

Register for Email Notifications

Make a Donation