NEW MATERIALS AVAILABLE

IMPORTANT UPDATE - 6/2/20
Due dates for materials have been extended until July 2nd. Please note that we are voluntarily quarantining all returned items for a minimum of 72 hours. Even though you may have returned items, they will still show on your record as checked out during the quarantine period. Be assured that all items are being checked in exempt from fines.
During our curbside service phase, you may place holds through our online catalog, or call in requests (Carrollton: 330-627-2613 - Malvern Branch: 330-863-0636). Please note that at this time, our delivery service is not yet available, so requests can only be filled with what we have on hand. If you would like ideas of what to request, a slideshow of new books and movies that we have recently acquired is available on our website for you to view.
Thank you for your patience during this time.

IMPORTANT UPDATE - 5/16/20
The Carroll County District Library will be re-opening, Wednesday, May 20th. Hours will be Monday-Friday, 10:00-6:00.
During the re-opening phase, there will only be touchless curbside delivery. You may call 330-627-2613 and request materials or place holds from our collection. Library staff will gather your requests, bag them, and place them out front when you arrive for pick-up. Please know that the cargo delivery system is not starting until June. All returned items must be placed in the bookdrop. All due dates have been extended to the end of May.
Thank you for your cooperation during this time.

Imagination Library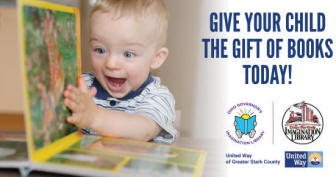 The Ohio Governor's Imagination Library is now available in Carroll County!

Any child, from birth to five years old, is eligible. In as little as five minutes, you can give your child a gift that lasts a lifetime!
Visit https://ohioimaginationlibrary.org today to register your child for Ohio Governor's Imagination Library, and your child will begin receiving a new book in the mailbox each month, at no cost to you. Sign up today!

Tax Assistance
Where Can I Get Tax Forms?

The library can print forms for $.15/copy (black & white)
Request by phone - (Federal: 800-829-3676) (State: 800-282-1782)
Filing Your Taxes


Free Income Tax Preparation (United Way)
(Schedule Your Appointment: - 330-994-8482
Mon-Thur 10am-5pm, January 6th - April 9th)

IRS Free File

Ohio I-File


Official IRS YouTube Channel


Library Makerspace

A place where you can Design, Preserve & Create!
VHS to DVD Converter
Record/Cassette to CD Converter
Button Maker
Cricut (crafting/cutting machine)
Ellison Die Cutting Machine
3D Printer

Lynda.com

Free for Library cardholders!
Lynda.com has more than 6,600 courses, ranging from computer programming to project management!
The courses include instruction on various types of computer software, programming languages, and business topics. Learning paths are step-by-step structured courses, supported with quizzes, practice, and learning reminders to encourage you and support you as you make progress towards your goal.
Examples of learning paths include: how to become a web developer, manager, bookkeeper, project manager, small business owner, digital marketer, or digital illustrator.

Library Databases
New databases include: Chilton Library (Auto Repair), Fold3 (US military records), Hobbies & Crafts Reference Center, Home Improvement Reference Center & much more!


Digital Catalog
Through our Digital Catalog, the library offers access to thousands of eBooks. The eBooks are compatible with many popular devices, such as the Amazon Kindle and the Apple iPad, iPhone, & iPod Touch. You may check out up to 10 titles at once and eBooks never accrue fines!

Support Your Library

Buy a Brick Program

Gift Tributes [Printable]

Register for Email Notifications

Make a Donation